Jamie Marich, Ph.D., LPCC-S, REAT, RYT-500
Founder & Director (She/They)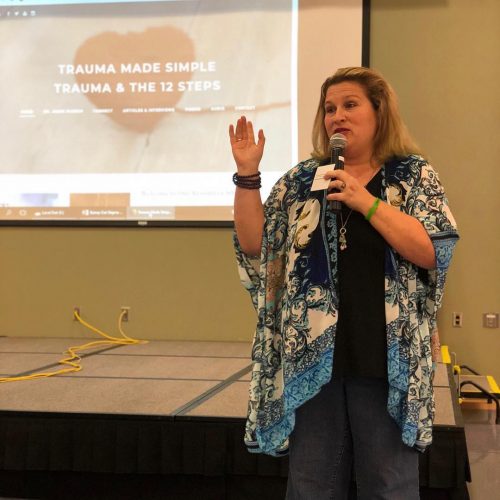 Dr. Jamie Marich (she/they) describes herself as a facilitator of transformative experiences. A clinical trauma specialist, expressive artist, writer, yogini, performer, short filmmaker, Reiki master, TEDx speaker, and recovery advocate, she unites all of these elements in her mission to inspire healing in others. She began her career as a humanitarian aid worker in Bosnia-Hercegovina from 2000-2003, primarily teaching English and music while freelancing with other projects. Jamie travels internationally teaching on topics related to trauma, EMDR therapy, expressive arts, mindfulness, and yoga, while maintaining a private practice and online education operations in her home base of Northeast Ohio. Jamie is the author of numerous books on trauma recovery and healing, with many more projects in the works. Marich is the founder of The Institute for Creative Mindfulness.
Her bibliography currently includes: EMDR Made Simple (2011), Trauma and the Twelve Steps (2012), Creative Mindfulness (2013), Trauma Made Simple (2014), Dancing Mindfulness: A Creative Path to Healing and Transformation (2015),  EMDR Therapy & Mindfulness for Trauma Focused Care (2018, with Dr. Stephen Dansiger), and Process Not Perfection: Expressive Arts Solutions for Trauma Recovery (2019). She has also written guest chapters and contributions for several other published collections. North Atlantic Books released a revised and expanded edition of Trauma and the 12 Steps, in the Summer of 2020. Jamie's own company, Creative Mindfulness Media, published two supplemental resources, a daily meditations and reflections reader and a trauma-responsive step workbook in the Autumn of 2020 to accompany. Her newest release with Dr. Stephen Dansiger, Healing Addiction with EMDR Therapy: A Trauma-Focused Guide is out as of August 2021 from Springer Publishing Company. Her next book, Dissociation Made Simple: A Stigma-Free Guide to Embracing Your Dissociative Mind and Navigating Life is scheduled for a release of January 10, 2023 with North Atlantic Books.
Jamie was interviewed as a master clinician in the DVD, Trauma Treatment: Psychotherapy for the 21st Century (2012) alongside icons like Dr. Bessel van der Kolk, Dr. Peter Levine, Dr. Robert Scaer, and Belleruth Naparstek. Jamie had the privilege of offering trauma recovery retreats at the Kripalu School for Yoga & Health, the Esalen Institute, and the Amrit Yoga Institute. In 2015, Marich launched her own EMDRIA-Approved EMDR Therapy training curriculum and now enjoys training a new generation of EMDR clinicians alongside her global team of collaborative faculty members and consultants. The New York Times featured her work with Dancing Mindfulness in 2017 and 2020 as part of their Meditation for Real Life series.

Jamie seeks to incorporate music and other forms of creative expression into her practice. As her career developed, Marich's love for experience-oriented methods of healing and trauma resolution intensified, prompting her to explore the conscious dance scene and various ways of applying these  "come as you are" practices into the healing process. Having completed several trainings and experiencing other conscious dance practices at the Kripalu Center for Yoga and Health in Massachusetts, Marich was encouraged and inspired to develop her own, unique practice, which now exists in the form of Dancing Mindfulness. To date, Marich has taught conscious dance seminars at various conferences nationally, internationally, and online, and has trained more than 500 facilitators in the Dancing Mindfulness practice.
She completed her Reiki Master teacher training in the Usui Shiki Ryoho system of Reiki under Master Valerie Spitaler. Marich is a Registered Expressive Arts Therapist (REAT) through the International Association of Expressive Arts Therapists and offers a full certificate in Expressive Arts Therapy through her Institute for Creative Mindfulness.  Jamie is a registered yoga teacher (RYT-500), with special training in yoga nidra and several other trauma-informed and recovery yoga approaches. Additionally, Jamie developed the Yoga Unchained approach to trauma-informed yoga with Jessica Sowers and currently runs the Yoga for Clinician programs under the umbrella of ICM's expressive arts therapy program. In 2017, she earned her Women Empowered Pink Belt in Gracie Jiu-Jitsu through Gracie University of Jiu-Jitsu and along with collaborator Anna Pirkl, wrote Transforming Trauma with Jiu-Jitsu (North Atlantic Books, 2022).

NALGAP: The Association of Lesbian, Gay, Bisexual, Transgender Addiction Professionals and Their Allies awarded Jamie with their prestigious President's Award in 2015 for LGBT advocacy in her writing and training. In 2019, the EMDR International Association (EMDRIA) granted Jamie their EMDR Advocacy Award for using her public platform in media and in the addiction field to advance the cause of EMDR therapy and to reduce the stigma around mental health and addiction. Jamie currently sits on the Clinical Work Group Committee of EMDRIA's prestigious Council of Scholars  and on the editorial board of the Journal of EMDR Practice and Research.. Jamie also serves on the Wisdom Council of the internationally known expressive arts ministry Abbey of the Arts, and is an advisory board member of HealingTREE Non-Profit.