Dissociation & Addiction Resources
The Institute for Creative Mindfulness training program and approach is distinctively different because of our willingness to openly and candidly address both dissociation and addiction throughout the training process. Founder Dr. Jamie Marich is in long-term recovery from both addiction and a clinically significant dissociative disorder and has been very open about her journey. Dr. Jamie is currently working on a model with ICM team member Adam O'Brien making a case for the inextricable link between dissociation and addiction and that addiction can be conceptualized as dissociation. All Institute for Creative Mindfulness team members are selected for their sensitivity to address complex trauma and the intricacies of working with both dissociation and addiction. On this page, we've gathered some of our best resources in the area of articles, videos, and interviews to help our own trainees and all EMDR therapists.
Advanced Certificate in Dissociation Studies for EMDR Therapists
This advanced certificate program, designed by Dr. Jamie Marich in collaboration with program co-director Amy Wagner, invites interested candidates into a course of study where you will be invited to get vulnerable, be real, and lower any "us-versus-them" divides between clinicians and clients. Although the program will review certain technical skills and models that you can use to enhance your clinical effectiveness, this self-paced program also provides you with opportunity to do your own work and blossom into a clinician-advocate who is both internally and externally equipped to face the challenges ahead.
The Power of Process in Healing Dissociation & Trauma
Offering 6 CE & EMDRIA Credits
While we are happy to provide you with these complimentary resources from Dr. Jamie and her team members, if you would like to learn more about Dr. Jamie's integrated approach to working with dissociation, and you are in needs of EMDRIA Advanced Topics Credits, check out her core course, "The Power of Process in Healing Trauma and Dissociation."
From the ICM Redefine Therapy Blog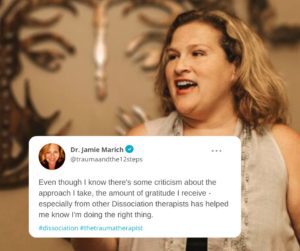 "In her interview for this project [Dissociation Made Simple], I asked her [my therapist Elizabeth Davis] if she had any concerns about me coming out
Read More »
Dissociation Made Simple Book Site
Articles, podcasts, interviews and videos related to Jamie's new book, Dissociation Made Simple: A Stigma-free Guide to Embracing Your Dissociative Mind and Navigating Daily Life
These collections constitute the mostly widely read articles by Dr. Jamie Marich and her collaborators available online on the subject of dissociation and trauma. We are not able to share peer-reviewed articles here due to copyright although please feel free to contact our office if you have questions about these.
Addiction & Dissociation video Resources
Trauma-Informed Grounding, Mindfulness, & Yoga Resources
Explore a variety of exercises to use yourself or to share with your clients. All descriptions link to YouTube.

"The wound is the place where the light enters you." -Rumi


PDFs and Media for Download
The Evolving Landscape of Healing Addiction with EMDR Therapy
A DAY IN THE LIFE OF A MET(T)A PROTOCOL CENTER
Greatest Hits List of Addiction Specific Beliefs
The Institute for Creative Mindfulness believes that no two cases are the same related to using EMDR therapy with clinically significant dissociation. These infographics, prepared by Dr. Jamie Marich, are simply meant to be a guide as you conceptualize cases. If you are finding yourself stuck, please seek consultation on how to best implement what you are learning