Curriculum designed by Master EMDR Clinician Jamie Marich, Ph.D., LPCC-S, REAT
Author of EMDR Made Simple and many other books on trauma recovery
Complete EMDR Therapy Training - Available Online
Our training program in EMDR therapy originated in Dr. Jamie's home base of Northeast Ohio and is now offered worldwide and online, incorporating the diverse perspectives of our growing team.
Complete EMDR Therapy Training In-Person
A select number of our faculty members continue to offer EMDR therapy trainings in person, following the strictest of safety protocols in their respective states during the COVID-19 pandemic.
What is EMDR Therapy Training?
Discovered by Dr. Francine Shapiro, Eye Movement Desensitization and Reprocessing (EMDR) Therapy is one of the most researched and utilized methods in the treatment of post-traumatic stress disorder (PTSD) and other forms of human distress connected to trauma and adverse life experiences. Whether your goal is to become an EMDR therapist as a specialty, or to integrate EMDR into your existing practice, our mindfulness-infused training program will help you meet your goals. Our program equips you to work with real-world clinical presentations from day one, including how to handle complex and developmental trauma, addressing dissociation, and implementing EMDR into your current setting. Our training program in EMDR therapy originated in Dr. Jamie's home base of Northeast Ohio and is now offered worldwide, incorporating the diverse perspectives of our growing team. The Institute for Creative Mindfulness was founded on an affiliate model, empowering our collaborators to take Dr. Jamie's initial work into their own communities.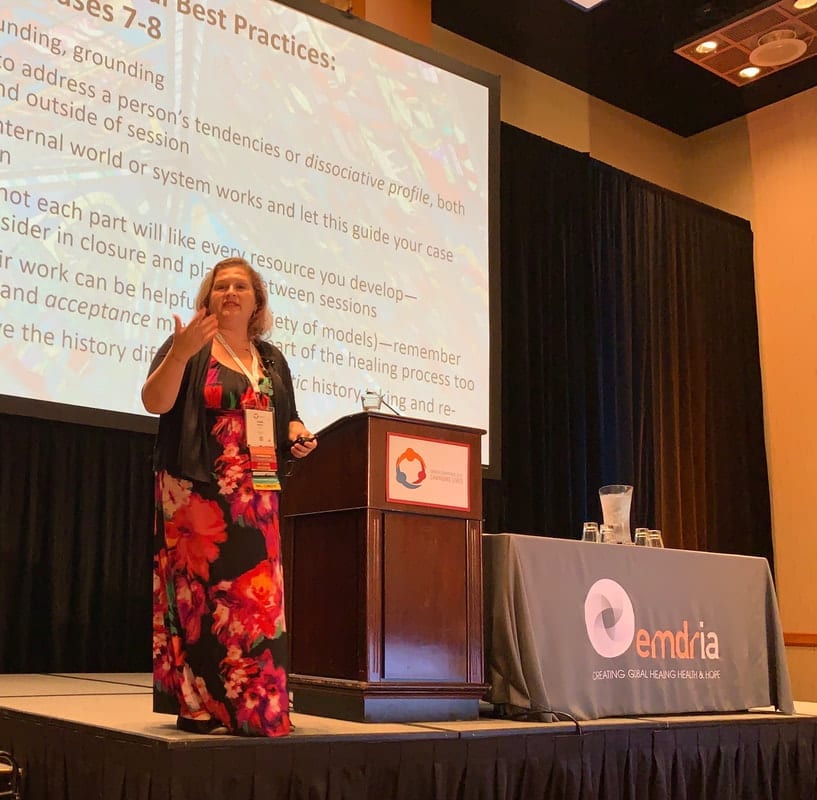 Overview of eMDR Therapy Training
Please make sure to view this orientation video before registering to get a complete understanding of how we structure our training. To meet the EMDRIA standards for full certification in EMDR Therapy you must complete:
Becoming an EMDR Therapist
Learn more about the training process directly from the EMDR International Association.
Visit www.emdria.org for more information.
EMDR Therapy Program Format
This in-person or online training covers the basics of trauma, the adaptive information processing model, trauma-informed stabilization, and the basic methodology and mechanisms of action used in EMDR Therapy. You will be able to practice EMDR therapy with certain clients after completion of Part I.


Part II training - 3 Days
In-person or online training with enhanced practicum content, covering best practices for using EMDR Therapy with special populations and in the complex scenarios of clinical practice; advanced content on ethics and neurobiology are also covered in addition to working with the art of case conceptualization.
Consultation is offered in individual or group formats and is essential to practical skill building as an EMDR therapist. It is suggested participants complete 4-6 hours of consultation after Part I and the remaining hours after Part II. Completion of consultation hours is required before a Certificate of Training in EMDR Therapy can be awarded. Our affiliate faculty members do not include the consultation in the cost of their posted trainings to allow you to work with the consultant(s) or consultant(s)-in-training of your choice. The Institute for Creative Mindfulness is unique amongst EMDR Therapy training programs by allowing you to choose from over 50 listed specialists. Having our trainees pay separately for consultation best facilitates this choice and allows you to receive true case consultation, not additional education. All training consultation work can be done remotely (e.g., phone, Skype, Zoom, etc.)​. No APA, NBCC, ASWB, OCSWMFT or other CE credits are awarded for consultation.
Program Completion & EMDR Certification
EMDR Therapy Training Part I and Part II must be completed in real-time (whether in-person or online), and all sessions must be attended for CE credits; no partial credit can be awarded. Certificates of completion of EMDR therapy training are issued after successful completion of Part I and Part II trainings in addition to 10 hours of consultation. Upon completing the tenth hour of consultation, trainees will submit documentation of consultation hours to their Part II trainers, who record the completion and mail a certificate of completion to the program graduate. The certificate of completion is a "suitable for framing" document and is different than CE credits offered for each part of training.
​Successful completion of this EMDR Therapy training program allows you to practice EMDR Therapy within your clinical scope of practice.
Find an EMDR Training that Fits your schedule today
The Institute for Creative Mindfulness is listed as a provider of Trainings in EMDR therapy by the EMDR International Association. Read further to learn more about our EMDR Therapy training.
Eligibility for the EMDR Therapy Training Program
A masters or doctoral degree
A masters or doctoral degree in a clinical mental health-related field (e.g., counseling, marriage & family therapy, social work, psychology, etc.) is required. Although it is not required, it is strongly preferred that you are in active clinical practice and working with clients.
Master's level students may be permitted to take the course if The Institute for Creative Mindfulness receives a letter of recommendation from a faculty member ahead of time. Requests and letters of recommendation can be sent to: support@instituteforcreativemindfulness.com
Medical professionals (e.g., nurses and physicians) are also eligible to take the course if they possess a clinical master's or doctorate degree and if their primary specialty is within mental health.
Chemical dependency professionals
Chemical dependency professionals with a master's degree or higher may also be eligible to take the course. Pastoral/Christian counselors, and art/music/dance therapists may also be eligible if they can show sufficient clinical content on their master's level transcripts. In these three specialty scenarios, prior approval is required from the Institute for Creative Mindfulness. In cases of these special circumstances, all cases must be made in writing with supporting documentation directly to The Institute for Creative Mindfulness. You can send your request to: support@instituteforcreativemindfulness.com
Your registration is not considered complete/confirmed until approval is granted.
Important EMDRIA Compliance Note
As of January 1, 2023, trainees have 12 months to complete both parts of the training and the required consultation hours whether they are taking the training in-person or online. If participants do not complete the required sections in this time frame specified by EMDRIA, they are required to complete Part I again before continuing.​ ​If you began your Part I training before January 1, 2023, the rules that were posted at the time you began your training apply to the completion deadline.
Diversity & Social Justice Scholarship
The Institute for Creative Mindfulness offers professional clinicians who are actively working to promote social justice in their circles of work and influence. Anyone in financial need who envisions a compelling use for our trainings to promote the value of social justice may apply.
Frequently Asked Questions
Yes. Due to emergency procedures and approvals put into place by the EMDR International Association (EMDRIA) because of the COVID-19 pandemic, the entire EMDR therapy training can now be taken online. There are slightly different requirements for the online training so if one of these interests you, please enroll here.
At the moment, no hybrid model is in place, so you must choose either a fully online training or a fully in-person training.
Although some of our faculty are still offering trainings in-person compliance with local distancing guidelines, the majority of our EMDR therapy trainings are now being held online until further notice.
We are the only EMDRIA-approved training program that teaches EMDR therapy through the lens of mindfulness. The mindful elements of EMDR therapy were more implicit than explicit when Dr. Francine Shapiro, a student of mind-body medicine, first introduced the therapy. Our curriculum makes the mindful elements explicit. We are now able to train people from the ground up in how to implement mindfulness strategies within the framework of the basic, 8 Phase standard protocol. We have found that this approach resonates for people with previous mindfulness training and helps those without previous mindfulness training to understand, to adapt, and to implement EMDR therapy effectively from day one.
Our trainees find that they are more quickly able to apply EMDR therapy to clients with complex PTSD, dissociative issues, and other complicated diagnoses. They also develop the necessary strategies for addressing developmental trauma and healing attachment wounds within a mindful framework. All of our faculty members are mentored by our founder Dr. Jamie Marich, an individual in active, open recovery from a dissociative disorder, to normalize and clarify working with dissociation respectfully throughout the training and treatment process. You can listen to Dr. Jamie's interview about our training program HERE.
If you are interested in getting some preliminary reading done before the training, we've prepared a guideline to the books we recommend, including notes on when best to read each resource.  There are several that are useful for you to read in preparation for the training and others that you will be able to best comprehend after the various phases of your training. 
We also have several videos provided. 
To visit our recommended reading and resources page, click 
HERE
.
No. You will receive a Certificate of Training after successful completion of Parts I & II and your required consultation. At that point, you may refer to yourself as "fully trained in EMDR Therapy." If you complete only Part I, you may cite that you have "partial training" or "some training" in EMDR Therapy. Many competent EMDR therapists practice EMDR Therapy with only the certificate of training. This is completely acceptable and generally ethical. In our view, the best ethical safeguard is to make sure that some of your continuing education for the rest of your career is directly connected to EMDR Therapy if you're going to continue to use this modality. After completion of our EMDR Therapy Training Program, you are eligible to begin the optional process for applying to be a Certified EMDR Therapist through the EMDR International Association (EMDRIA). For more information on that process, click
HERE
.​
Listen to this complimentary teleseminar recording on EMDR Therapy with Dr. Jamie hosted by our friends at 
The Breathe Network
. The Breathe Network also conducted an interview with Dr. Jamie about EMDR which you can access by clicking 
HERE
, and the recovery journalist Anna David conducted a very popular interview with Dr. Jamie on EMDR published on Psychology Today which you can read by clicking
HERE
. Dr. Jamie also produced and continues to produce the largest collection of EMDR demonstrations on YouTube. We have these videos available by clicking
HERE
.
The cost of training does vary by geographic location and component part. While faculty travel can add to costs, we work with facilities who offer us discounted prices in order to keep the cost of trainings as low as possible. As a result, we can offer training at lower prices than others. For 2022, we will be moving to more consistent pricing.
Yes, with certain clients. Your trainer and small group facilitators will help you determine which clients will be the best fit for starting EMDR Therapy. It is a common misconception that you aren't able to use EMDR until the whole training is completed.
If cancelling prior to two weeks before a scheduled event, trainees are entitled to a full refund less a 5% processing fee OR the option to apply the dollar amount paid towards a future training with the Institute for Creative Mindfulness. If cancelling less than two weeks before a scheduled event, trainees are entitled to a 50% refund, OR the option to apply the dollar amount paid toward a future training with ICM. Only medically documented reasons or family deaths are considered as an exception to this policy. No-shows are generally not eligible for a refund. In the case of inclement weather, should we cancel the training, your registration would simply be moved to our rescheduled date. If the rescheduled date isn't available for you, we can offer you another date or issue a refund. If you terminate your training or need to leave it early for any reason, you are not eligible for a refund. Attendance at the entire training is required for our program to remain compliant with EMDRIA standards. All other situations will be handled on a case-by-case basis.
Please contact us with any questions or concerns.
Click HERE for more information on ICM's Organizational Policies
No. During your EMDR therapy training we require that you complete your supplementary consultation with one of our approved 
consultants
 or consultants-in-training listed with the Institute for Creative Mindfulness team.
This would be the decision of the other program in question. We cannot make any guarantees.
We evaluate these situations on a case by case basis. Generally the answer is yes as long as you can provide verification of your Part I training with the other provider. We do ask you to complete all 10 of your consultation hours with us, including 4-6 of those hours before your Part II training as a refresher and so that you can get acquainted with our training program and style.
We recommend that you complete 4-6 hours of consultation (available in groups or individually) between your Parts I & II training to ensure that you will get the most out of the Part II training. If for some reason you are not able to complete any consultation between Part I & Part II you are still allowed to take the Part II. There will be more catch-up work to be completed afterwards and you may not receive full benefit from the Part II training.
If you are not familiar with using travel sites for booking, please contact the training provider directly at the site where you book. If you are stuck in this process, please 
contact us.
All venues used for in-person trainings are ADA-compliant. For both in-person and online trainings, if you require assistance, the Institute for Creative Mindfulness is willing and committed to make reasonable accommodations. Please contact us – by regular U.S. mail at P.O. Box 8732, Warre, OH 44484, by telephone at 330-203-1141, or by email at 
support@instituteforcreativemindfulness.com
 – if you have any questions or concerns or if you need to make such a request. The ICM home office requests a 30-days advanced notice for any accommodation requests to allow us to work together on your request.
At the moment, ICM founder Dr. Jamie Marich is only offering two EMDR training cycles a year in the intensive format: One in-person (generally held every early fall at Chico Hot Springs in Montana) and one online (also scheduled for Fall). She anticipates that this schedule will remain in place for the next several years. Please be assured that every other faculty member is hand-picked by Dr. Jamie and has trained directly with her in teaching the ICM curriculum. With Dr. Jamie's increased demands for writing and speaking at special events, she is turning more of the EMDR training work over to her well-qualified team.