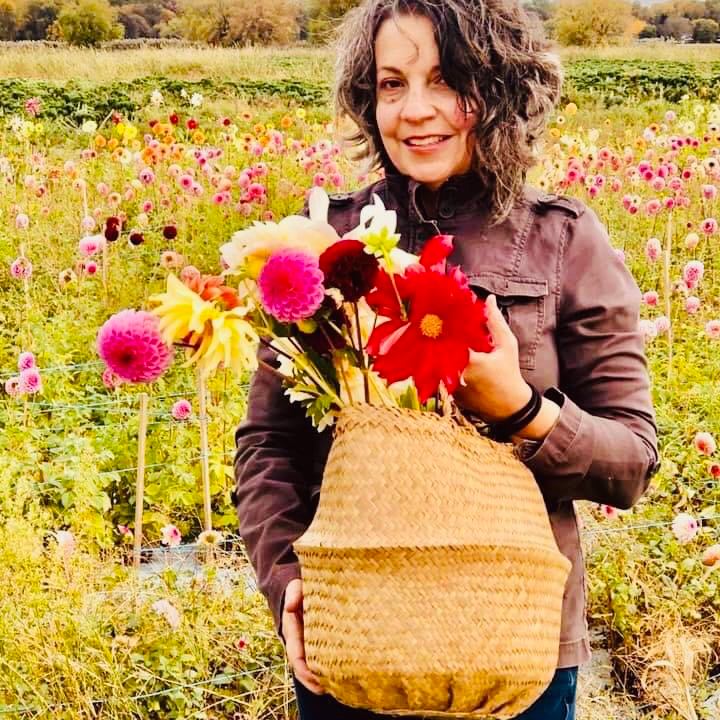 Biography
Hello friends
I am a white, cis gendered, queer intersectional feminist activist with a mostly managed chronic health condition (fingers crossed). I reside with my husband and our pup Molly, on the traditional territory of the Three Fires Confederacy of First Nations, which includes the Ojibwa, the Odawa, and the Potawatomi and is colonially known as Windsor, Ontario, Canada.
Like many other trauma survivors I have an autoimmune condition that I care for using both conventional and non-conventional approaches including EMDR.
MY APPROACH:
I am committed to equity and healing and mostly work with folx that experience Chronic Stress, PTSD and C-PTSD and have dissociative identities. I believe that dissociation was and can be a super power and resist any attempts in our profession to dismiss and/or pathologize the lived experiences of folx with dissociative identities.
I am passionate about my own therapy and healing as well as achieving equity and healing for the world around me. My approach combines: EMDR with ego state therapy, attachment theory, polyvagal theory, somatic psychology and an intersectional feminist lens. I am also a yoga and mindfulness student and teacher.
I have been an EMDR Therapist since 2001
I am a Certified EMDR therapist and completed this process under the direction of Cindy Shrigley.
I am an EMDRIA Approved Consultant and completed the CIT process under the direction of Melissa Benintendi and Jennifer Savage of Beyond Healing Centre and the podcasts: Notice That; Beyond Trauma; and The Evidenced Based Therapist: https://www.beyondhealingcenter.com/
I provide individual and group EMDR Consultation for therapists that have completed an EMDRIA approved Basic Training.
CONSULTATION and ONGOING TRAINING:
I attend monthly individual consultation, monthly group consultation with various consultants, two monthly peer consultation meetings. I love providing and receiving regular EMDR consultation.
Availability:
Openings for EMDR therapists seeking Individual and/or Group consultation from an EMDRIA approved consultant.
Sadly at this time my private practice is full and I am not accepting new clients at this time.
I first learned about EMDR during the second internship of my Master of Social Work program in 1998. My supervisor had completed the training and allowed me to observe some of her sessions. I was impressed with the results she and her clients were reporting.
I completed level I (February 2001) and level II (June 2005). I completed a second Basic Training Program with Kathleen Martin (Sept 2020 to April 2021) and a third Basic Training with Dr. Jamie Marich (March 2023) when I joined the Institute for Creative Mindfulness as a Team member https://www.instituteforcreativemindfulness.com/directory/gisele-harrison/?cred_referrer_form_id=10393
I am an enthusiastic learner and teacher and am deeply committed to developing my skills as an EMDR therapist that specializes in chronic stress, trauma, complex trauma and dissociation. Over the last two decades I have completed and plan to continue to complete advanced training in: Somatic Integration Processing; structural dissociation; Internal Family Systems Therapy; Schema Therapy; Mindfulness-Based Psychotherapy; MBSR; Working with Dissociation; several Art of EMDR retreats, anti-racism, LGBTQA+ care and anything that improves my ability to function within an intersectional anti-oppressive lens.
I have completed workshops under the direction of: Dr. Jamie Marich, Melissa Benintendi, Dr. Arielle Schwartz, Nkem Ndefo, Scott Lyons, Jen Savage, Bridger Falkenstien, Caleb Boston, Dolores Mosquera, Kathy Steele, Roger Solomon, Kathleen Martin, Cindy Shrigley, Bessel van der Kolk, Stephen Porges, Deb Dana, Terrence Real, Esther Perel, Michael Stone, Jon Kabat Zinn, Saki Santorelli, Wendy Behary, Lisa Dion, Kai Cheng Thom, David Archer, Lissa Rankin, Richard Schwartz, and many more.
I keep up to date on new developments in EMDR therapy through participation in consultation groups with colleagues, consultees, my own individual consultation, ongoing training, and by faithfully listening to the "Doin The Work", "Notice That", "Beyond Trauma" and the "Uncensored Therapists" podcasts.
I have personally gained so much relief from EMDR as a client and have been using it successfully with my own clients since 2001. I have been providing long term counselling to folks struggling with Trauma, Complex Trauma, Dissociation, Depression, Anxiety, Stress, Attachment, Self-Esteem and Grief since 1998.
I have been an intersectional, anti-racist activist for over forty years and continue to explore how my location in the world affects how I see myself and others and how our lived experiences vary depending on ability, gender, race, age, class, size. I put conscious effort in providing an approach that is intersectional and 2LGBTQA+
My goals in life and in work are to embody the journey that I passionately encourage people to take with me. I have an almost daily mindful meditation and yoga practice, I try to eat responsibly (I have an autoimmune disease and see food as a major part of my healing journey), and I take several breaks throughout the day to breathe, be silent and/or walk my "still in training since October 2010" therapy dog named Molly.
My goal as a therapist and teacher is to help each person clear up the way they perceive and relate to themselves and the world around them. This means helping people to process difficult memories and experiences; heal relationships; reduce stress and anxiety; improve health, well-being, self-esteem and self-confidence; and develop and enhance self-nurturing practices.
I find freedom in my Buddhist meditation practice and in my faith as a Christian. I gather strength, experience and training from studying and learning from the world's religions as well as the world's great philosophers, psychiatrists, psychologists and social workers.
I have a passion for reading and watching films and listening to podcasts and can often suggest the right book or the right film or the right podcast to meet the needs of people seeking my services. I am very well connected in the community and can assist people in making connections with others outside of the work we engage in together. Similarly if there is not a strong connection between us, I am very willing to refer you to someone who may be a better match for what you are looking for.
I love to travel and have worked and/or travelled across Québec, Ontario, British Columbia, Cameroun, Uganda, England, France, Belgium, Sweden, Denmark, Holland and much of the United States.
I would be happy to hear from you to see how I might be of service.
Clinical Specialties: Anti-oppressive, Attachment Theory, Autoimmune Disease, Buddhist Meditation, Chronic Illness/Pain, EMDR Advanced Training, Ego State Therapy, Family Mediation, LGBTQIA+ populations, Polyvagal Theory, Somatic Psychology, Structural Dissociation, anti-racist, intersectional feminism, yoga
Consultation Information
✓ Experienced In Online EMDR Therapy Training model
Location
Windsor, ON, Canada